Ronald Hunter Paintings
Ronald Hunter Paintings

Please check my english version website: www.ronaldhunter.com

Buy abstract paintings directly from the artist. Ronald Hunter is an abstract artist, a contemporary artist known for his colorful works and large canvases. His works are sold all over the world to companies, offices, hospitals, but most importantly, his art pieces are displayed in homes.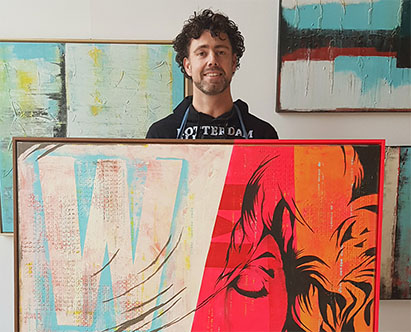 Ronald Hunter, the artist, has a passion for creating accessible abstract paintings that do not feature extreme excesses or negative imagery. Alongside abstract art, he also admires Pop Art for its ability to transform everyday objects into new contexts. While he doesn't consider himself a Pop Artist like Warhol or Koons, their work serves as inspiration for him.
Ronald's Pop Art collection consists of typographic portraits with vibrant neon colors. The artwork aims for a balanced color palette, utilizing various typography sizes to shape the background. Neutral faces are intentionally used to allow viewers to focus on the interplay between colors, shapes, and the face. The use of lines adds to the overall experience of the artwork, blurring the boundary between the shapes and the face.

You can also check his art gallery Roxier in Rotterdam